We often get confused when cleaning companies offer two types of cleaning: regular cleaning and deep cleaning. But what exactly does it mean and what is the difference between the two? 
Let's have a look at each one to understand the difference clearly. So next time you want to book a cleaning service, you know which is the one you are looking for.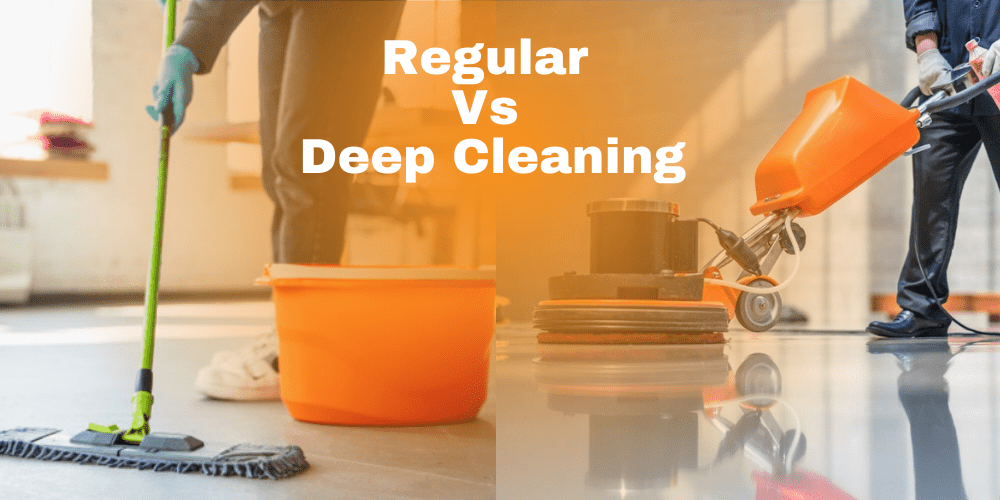 Regular Cleaning:  The simplest way to describe regular cleaning is a set of cleaning tasks that are performed on a regular basis. This is sometimes also referred to as domestic cleaning.
Regular cleaning is what most people do on a daily or weekly basis. Regular cleaning maintains a good level of cleanliness around the house. So it can be referred to as weekly or daily maid services, where a company sends you a maid to clean your home on an hourly basis. Regular cleaning tasks often cover things like:
Vacuuming and mopping your floors

Tidying up the house

Cleaning the bathrooms – toilet, bath, mirror, sink, etc.

Cleaning the kitchen – wiping surfaces, outside of appliances, taking out trash, etc.
These cleaning tasks typically don't take that long to complete; however, they are essential to help keep your home free from dust, dirt and other debris.
Deep cleaning: Deep cleaning is different from regular cleaning because it reaches the deep grime and dirt in your home. It covers areas which aren't traditionally covered by a regular cleaning for example:
Behind kitchen appliances like the washing machine and oven, cutting through the grime that builds up.

Under the sink.

Inside the oven including the oven door glass.

Inside of window frames and patio doors.

Inside and outside of all windows.

Washing all blinds.

Full and deep dusting including all the corners of rooms for cobwebs.

Scale removal from all bathroom tiles, kitchen tiles, taps, shower heads, etc.
While deep cleaning is more expensive than regular cleaning, it also only needs to be done every six months, or so.
As you can see, a deep cleaning is much more thorough than a regular cleaning service. It also takes longer to complete.
So now that you know the exact difference between both types of cleaning, it is always recommended to start with deep cleaning for your home and then hire a maid for regular cleaning to maintain the hygiene of your home.